Warnings
Please use responsibly and safely:
Do not use in public, only in your private home without disturbing the public.
Do not use and then drive or operate heavy machinery, your license and be cancelled.
Do not allow access to individuals under the age of 20.
Do not mix cannabis and other substances such as tobacco or alcohol.
Origin
This flower is supplied by: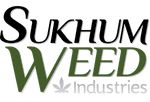 Sukhumweed Industries is a licensed Cannabis farm from Thailand which leads the way in organic, regenerative and community integrated Cannabis farming.
Founded by long term Cannabis advocate Soranut Masayavanich, Sukhumweed Industries focuses on rejuvenating natural soil and nutrients, growing Cannabis free of any pesticides or other chemicals.
Since 2021 Sukhumweed Industries operates three farms in close collaboration with small local communities to promote an eco friendly and sustainable Cannabis culture in Thailand.
Soranut has traveled the world to find the finest cannabis landrace strain. In 2019 he accepted the title of Vice Chairman of the Committee on Policy Monitoring of the Thai government. We are proud of partnering with Sukhumweed Industries in not only providing absolutely premium quality Cannabis but also promoting farming sustainability in Thailand.